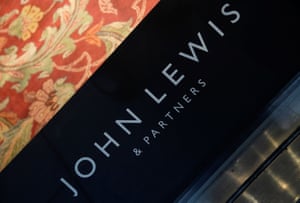 Good morning, and welcome to our rolling coverage of the world economy, the financial markets, the eurozone and business.
Three of Britain's major retailers are reporting results for the key Christmas period today, and it's a decidedly mixed picture.
The John Lewis Partnership – which includes Waitrose – has reported a slump in gross sales, down 1.8% year on year in the seven weeks from 17 November to 4 January.
Its department stores fared particularly badly, with sales down 2% on a like-for-like basis.
That wiped away a stronger performance at Waitrose, where online sales increased by 16.7% over the pre-Christmas period.
And in a blow to its workers, John Lewis Partnership is warning that employees may not receive their usual bonus — which used to be worth several weeks pay.
It warns:



The Partnership Board will meet in February to decide whether it is prudent to pay a Partnership Bonus.

The decision will be influenced by our level of profitability, planned investment and maintaining the strength of our balance sheet."
Outgoing Chairman Sir Charlie Mayfield warns that earnings at the Partnership will be much weaker than last year:



At the full year, we expect profits in Waitrose & Partners to be broadly in line with last year. In John Lewis & Partners we will reverse the losses incurred in the first half of the year, but profits will be substantially down on last year.

We therefore expect that Partnership profit before exceptionals will be significantly lower than last year.
Supermarket chain Tesco appears to have done better, with a 0.1% rise in like-for-like sales in the UK despite the tough retail climate.
Marks & Spencer has had a mixed time. It has just reported total UK sales for the last 13 weeks of 2019 fell 0.6% (but was up 0.2% on a like-for-like basis).
Total food sales rose by 1.5%, but clothing — a long-running problem for M&S – slumped by 3.7%.
Homewear group Dunelm and high street chain Card Factory are also reporting results, on a busy morning for retail news.
Also coming up today
After getting into a geopolitical tizzy's on Wednesday, the markets are calmer today as US-Iran tensions ease a little.
The missile attack launched against two US bases appears to have avoided any casualties – meaning Tehran has responded to the death of general Suliemani without provoking a US retaliation.
This pushed US stocks higher last night, with the Nasdaq hitting another record high.
We also hear from outgoing Bank of England governor Mark Carney today, alongside jobs data from the US and Europe.
The agenda
9.30am GMT: BoE governor Mark Carney speaks at The Future of Inflation Targeting Conference in London
10am GMT: Eurozone unemployment data for November: expected to remain at 7.5%
1.30pm GMT: US weekly jobless figures