Retail News Subscribe – One mail per day with summary
Safe content check
Content found safe from malware :
Affiliate Declaration
www.askwebman.com (askwebman.com) is a participant in the Amazon Associates Program, an affiliate advertising program designed to provide a means for sites to earn advertising fees by advertising and linking to amazon.in.
In addition to askwebman's participation in Amazon's program, askwebman.com also participates in a number of other affiliate programs. That means when someone clicks on an affiliate link and purchases a product,askwebman.com receives a small commission.
This commission does not cost you anything, nor does it affect our judgement when it comes to selecting which products we showcase in our content.
New Products update – One mail per day
Retail News update – One mail per day
>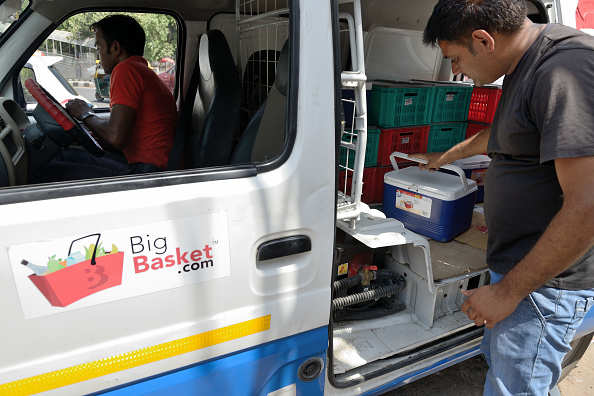 BENGALURU: Online grocer
Bigbasket
has crossed an annualised gross sale runrate of $1 billion for the first time in May, riding on strong
consumer demand
for grocery and essentials due to the Covid-19 pandemic.
The Bengaluru-based company will become the second sector-focused online retailer after fashion portal Myntra, and horizontal e-tailers like Flipkart and Amazon India that sell all goods, to cross the billion-dollar sales mark. Myntra has a gross merchandise value (GMV) of over $2 billion.
Bigbasket co-founder and CEO Hari Menon told TOI it clocked Rs 650 crore, or almost $90 million of sales, after discounts, in May and that the sales growth trend remains steady in June too. The Alibaba-backed company is also looking to raise $250-300 million from new and existing investors, eyeing a valuation in the range of $1.5-2 billion.
The aim is to shore up a war chest to fight the Reliance Industries-Facebook combine and diversify the investor base. Menon confirmed he has appointed Morgan Stanley and Goldman Sachs for the fund-raise, which are in the initial stages of the process, while declining to comment on further details.
"We grew 35% on a monthon-month basis in April, and then the next two months we grew roughly about 18% and 20%. It (the demand) is holding really well. Including BB Daily, we are clocking 3.5 lakh orders, which was around 2.2 lakh orders a day (before pandemic)," Menon said. BB Daily is a separate micro-delivery platform of Bigbasket, which delivers milk, bread and eggs on a subscription basis.
The product mix has also changed on Bigbasket. In value terms, fruits and vegetables — which used to be 16-18% of its business — have now jumped to 20-22%. "The whole thing (business) got advanced by 12-15 months. Operational profitability is a few months away," he added. Menon said the growth momentum will continue, based on the sales expansion of the last four months.